HARDWOOD FLOOR REFINISHING
It's Time to Refinish Your Wood Floors
There's no need to break the bank on brand-new hardwood floors. Opting for our hardwood floor refinishing service in Columbus offers a more affordable alternative that will save you both time and effort. In most cases, our team at Fabulous Floors Columbus can complete the job within 1-2 days. Plus, all of our technicians are highly trained professionals who take pride in their work. We are proud to offer top-quality hardwood floor refinishing in Columbus, OH, and the surrounding communities. Contact us today to get your free price quote right over the phone!
Wood Floor Refinishing: Our Trusted Process
STEP 1: Remove Remaining Carpet
If there is any carpet or staples remaining on your floors, we carefully remove them with needle-nose pliers and a putty knife. We only use chemical solvents that are deemed safe for your family and the environment. We promise to take great care to not damage your original wood floors during this process.
STEP 2: Sand Your Hardwood Floors
We've worked hard to create a sanding process that produces as little dust as possible. We begin with coarse-grit sandpaper and repeat the process 3 times or more, using a finer grit each time. This ensures that all damage, scratches, and stains on your floors are completely removed. Our technicians will do a thorough job and will sand hard-to-reach places by hand where necessary. Once the sanding process is complete, your floors are ready to be stained.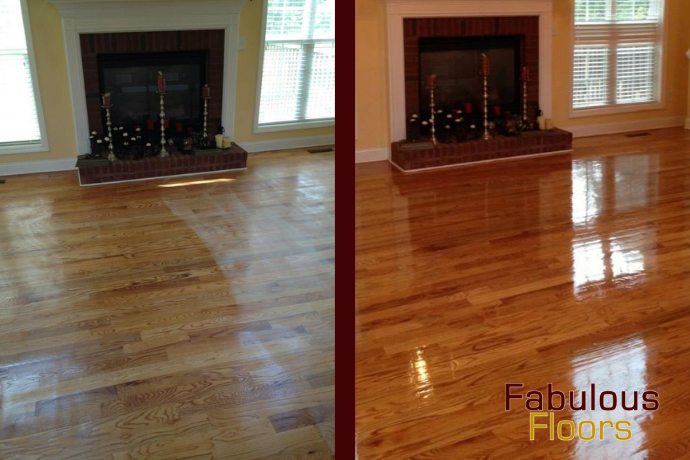 STEP 3: Stain Your Hardwood Floors
Fabulous Floors has a large variety of stain colors for you to choose from. You can see our most frequently used stain colors here, however, if you don't see a color you love, we can provide additional options. With meticulous attention to detail, we ensure that the stain is applied evenly throughout your hardwood floors, following the natural grain of the wood. We finish by buffing the floor and cleaning away any dust or debris with a tack cloth and vacuum.
STEP 4: Seal Your Hardwood Floors
Lastly, your hardwood floors are topped off with a high-quality & long-lasting polyurethane finish. We apply this coat with a mop-like tool and pad applicator. Once 24 hours have passed, your floors will be completely dry and ready for everyday use. The polyurethane finish we apply not only safeguards against future wear and tear but also preserves the color of your stain, ensuring your hardwood floors shine brilliantly for many years ahead! You can choose from gloss, semi-gloss, and satin finish for your floors.
Here are a few reasons why you should choose Fabulous Floors Columbus for all of your hardwood refinishing needs:
✓ Options – From refinishing and resurfacing to a variety of stain colors, you can choose from a variety of options to enhance the beauty of your home.
✓ Honesty – All communication and business transactions are completed openly and honestly.
✓ Quality – All of our products and services are of the highest quality. We never cut corners to save a penny.
✓ Multiple payment options – We offer multiple payment options to fit your budget.
✓ Flexible scheduling – We work with your schedule to offer our services at the most convenient time for you.
✓ Insured & Bonded – Rest easy knowing that we are insured & bonded.
The Fabulous Floors Columbus Hardwood Floor Refinishing Process
Check out this video to learn how the team here at Fabulous Floors Columbus uses our refinishing system to bring back the beauty of your hardwood floors, without the cost of getting all new floors!
Fabulous Floors refinished hardwoods throughout the house. They were prompt, efficient, courteous, and friendly. The cost was very reasonable and the work was high quality. I would highly recommend.
– Jocelyn C.