Professional Hardwood Floor Refinishing in Columbus, OH
In need of the best hardwood floor refinishing Columbus OH, has to offer? Are the hardwood floors in your home needing some TLC? Instead of completely replacing them, consider our expert refinishing service! The professionals at Fabulous Floors will give your home the best hardwood floor refinishing in Columbus, OH. Highly trained technicians will treat every hardwood refinishing service as if it were being performed in their own home. Contact us for a free price estimate, and let us tell you exactly what we can do to restore the beauty of your home.
Our Columbus Hardwood Floor Refinishing Process
The first step in our Columbus wood floor refinishing process is a thorough evaluation of your home. For floors without many large dings or scrapes, the best option may be our refinishing process. We'll begin by sanding down your hardwood floors with our innovative low-dust equipment to ensure a solid, smooth working space. This step also helps to clear up any of the natural wear and tear from life on your floors. Next, you can choose which of our many stain options best suits you and your home. Once the stain is completely dry, we'll coat the entire floor with our high-quality polyurethane treatment. This treatment seals in the stain for a longer-lasting color, and a layer of protection.
Fabulous Floors Columbus is Green
Our entire wood floor refinishing service in Columbus only takes us a few days to complete and is GREENGUARD certified. This means that our products and services won't damage the environment or your home. Being certified means that we are keeping the same standard of quality and excellence across all of our projects. You don't have to completely replace your floors. Allow Fabulous Floors Columbus to bring back the beauty of your hardwood floors today!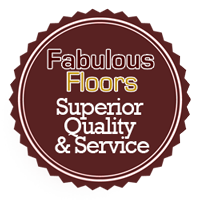 Hardwood Floor Refinishing Columbus
Contact us today to learn more or get a free price estimate for hardwood floor refinishing in Columbus, OH!
Columbus: (614) 662-2101