HARDWOOD FLOOR REFINISHING LINCOLN VILLAGE, OH
Refinish Your Hardwood Floors in Lincoln Village
It's time to face the truth: your wood floors are taking a beating and it's lowering their resale value. But we're here to tell you that replacing your hardwood isn't the only way to restore equity to your home! Our team at Fabulous Floors Columbus offers a more affordable and convenient option. We provide a revolutionary hardwood floor refinishing service in Lincoln Village. Let us take care of the damage and bring back the beauty of your wood floors!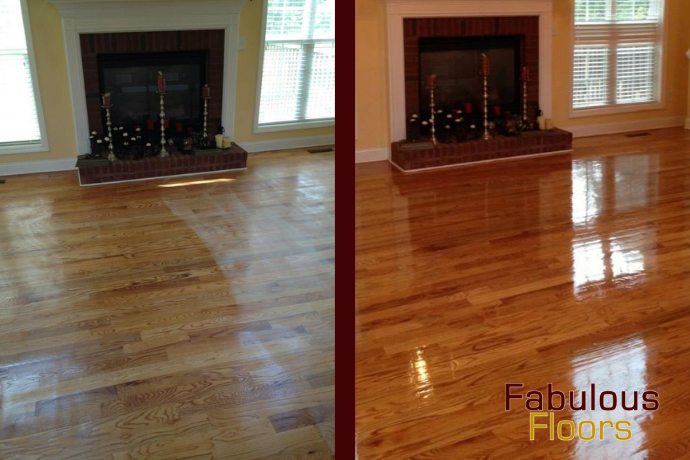 What Makes the Team Here at Fabulous Floors Columbus Different?
There are plenty of hardwood floor refinishers in Lincoln Village. That's exactly why we want to show you what truly sets us apart. We believe that we offer a better process, superior customer service, and greater convenience. Let's break down exactly what all of that means.
Our Four-Step Wood Floor Refinishing Process
We'll start with our superior process, which is as simple as four steps. First, we remove any carpet or nails that are on the floor. Second, we start sanding to take out all of the damage that has accumulated through the years. Third, we apply one of our many stain colors to ensure your floor looks the exact way you want it. And finally, we apply our special finish that will keep the floor looking beautiful by protecting it from future damage.
Superior Customer Service
Next, let's talk about how we treat others. Unlike other floor refinishing services in Lincoln Village, OH we go above and beyond to ensure your complete satisfaction. You can count on us to treat your floor and your home with the utmost respect. We know that we are invited guests and we don't want to ruin that trust. That's why we answer every question, never push you into a service you don't need, and will work to resolve any issues that may come up in the process.
The Convenient Wood Floor Refinishing Option
And now we have come to our third and final point: convenience. Most of our projects can be completed in less than a week, with minimal dust and odors. Get your life back to normal sooner by choosing us as your Lincoln Village hardwood floor refinishing company.
"Tony and Matt are amazing guys! Matt made it so easy to get an estimate, schedule our day and plan according to our schedule. We highly recommend Tony who made our floors look FABULOUS after all the work of sanding, giving us samples of stain colors in our home, perfectly sealing off the rest of the first floor and now we have a masterpiece! Red mahogany is what we chose and Tony made it so beautiful! He kept everything clean, hassle free, and easy to do business. On time and trustworthy is priceless, that's our Tony. Such a sweet guy and shows his experience, we couldn't have asked for a better experience!!" 
See Our Fabulous Lincoln Village Hardwood Floor Refinishing in Action
Many people are visual learners which is why we wanted to share a short video showing off our entire process. Check it out, and see what our team at Fabulous Floor Columbus can do for your Lincoln Village home.
"The floors are beautiful and look wonderful. The guys are knowledgeable, friendly, and hard-working. They are proud of their work."